Today (January 30, 2005) we adopted our second Beagle, an almost-one-year-old boy, from Beagles and Buddies Dog Rescue in El Monte, CA. We've named him Digory Atticus Dog. Like Scout (named after the character in To Kill A Mockingbird), Digory is named from literature -- this time, after a character in C.S. Lewis' The Chronicles of Narnia series. (Digory is a main character in The Magician's Nephew; he appears as an old man -- "The Professor" -- in The Lion, the Witch, and the Wardrobe. Atticus is another name from Mockingbird, and, well, all dogs have the last name of Dog.)

He came to us with a slave name of "Chesty" -- why his previous owner chose to give her male dog a name better suited to an 80s female porn star is unclear, but Digory seems more than happy to be rid of it. He already answers to his new name!

Digory has no obedience training; he doesn't even know "sit". We've clearly got a lot of work ahead of us. He's got a sweet nature and seems pretty relaxed, so I think that we'll be okay in the meantime. He's supposedly housetrained, though -- and we haven't had any accidents so far!

At first, Scout was pretty unsure of this new addition, and spent the first half-hour after we got home underneath the bed. Any efforts I made to coax her out just got me a baleful look as she inched even further away from me. Despite Digory's cuteness and (so far) good manners, I started feeling buyer's remorse -- oh, no, we just spent hundreds of dollars of non-refundable adoption fees in order to completely ruin Scout's life forever! But then I was able to coerce Scout into coming out so that both dogs could take a walk together.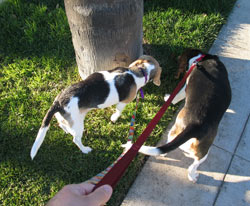 Action shot!
(Do you know how hard it is to walk two dogs with one hand and take a picture with the other?)
After we made it back to the house, they started to warm up to each other.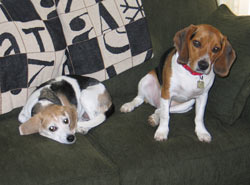 Then we moved into the backyard, and full-scale playing broke out!
Who is that dog over there?

Who's that dog over there?

Let's play!
(Check out those big floppy ears in action!)
And after that, things were pretty much all right.