Beagle in the Big City
| | |
| --- | --- |
| Or, we drag Scout through the U-Bahn and a department store | (Click on any of the pictures to get a larger version of that image.) |
This Saturday, we decided to take full advantage of Germany's friendliness to dogs. We already had plans to go downtown to shop at Karstadt (a large German department store chain); Kevin pushed for Scout to come along, for no particular reason beyond the fact that we could. She was allowed, one hundred percent -- Beagle on the train! Beagle in the department store! We would be availing ourselves of as-yet-untried freedoms -- unless your dog is a "service dog", you can't do this in America.
According to the various escalator pictograms, dogs can't ride the escalator (left), but you can carry a dog down the escalator (right) . . .
. . . so we did. The dog was not entirely pleased.
| | |
| --- | --- |
| | |
| Here we are inside our neighborhood U-Bahn station. | As the train arrives, Scout looks on, resigned to her fate. |
"Ack! It's moving!"
Inside Hauptbahnhof Nord, our destination station. It quickly became obvious that carrying Scout down the crowded platform was the best way to make it out without causing harm to man or beast.
Shelby and Scout on the Mönckebergstraße (a big shopping district in the center of Hamburg), surrounded by the usual rush of Saturday afternoon shoppers.
Scout being a good dog inside Karstadt, the largest department store along the Mönckebergstraße.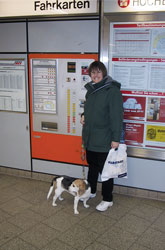 By the ticket machine: "Can we go home now?"
---
This page last modified on Sunday, March 14, 2004
Go to: HappyBeagle.com • HappyBeagle's main picture page • Kevin's Blog • Shelby's Blog